Community Animal Hospital Blog
Summer Safety Tips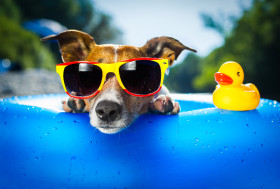 Summer is in full effect! Cookouts, fireworks, warm weather and vacations are things we all look forward to but can also pose some problems for our furry family members!  Let's go over some summer safety tips that ensure our pets enjoy summer just as much as we do:
Firework safety

Your pets should stay home and indoors during firework displays.
Sometimes having a distraction will keep them preoccupied.  A TV, radio or media player left on a low volume can serve as "white noise" to distract pets from the booming noises.  Leaving your pet with a treat, chew or puzzle toy is also a great distraction!
Pacing, excessive barking and destructive behavior may be signs that your dog may have a firework phobia.  If your pet shows these signs, please contact Community Animal Hospital to discuss treatment options.

Cookouts

Vomiting and diarrhea are two of the most common reasons dog and cats are seen at a veterinary clinic and sometimes it can be caused by eating foods outside of their normal diet.  It's tempting to share the freshly grilled burgers and other delicious foods with our pets but changing their stable diet by adding high calorie treats can cause an upset stomach and intestines.
Always be sure to leave alcoholic and any human beverages out of reach from your pets.

Hot cars

Never leave your pet inside a car without the air conditioning on, during warm weather.  Heat stroke, exhaustion and dehydration can be life-threatening disorders caused by pets staying in hot cars.
Even with temperatures in the upper 70s, the temperature inside a parked car with the windows cracked can reach above 100 degrees rapidly.  Watch veterinarian, Dr. Ernie Ward, put this to a test: How Hot Does it Get in a Parked Car.
If you have to run errands, please keep your pet at home or plan a trip to a dog-friendly store!  Several stores allow leashed, well-behaved dogs inside like Lowe's, Home Depot, Old Navy and Tractor Supply Co.

Traveling with pets

Some families opt to have their furry family members cared for by somebody else during vacation trips while some families bring their pets with them.  Some cats and dogs love car rides, but this may not be the case for your pet.
Some animals can actually develop car ride anxiety as well as motion sickness.  Both of these ailments can make traveling sresssful.
Plan ahead! If your pet shows signs of nausea, vomiting or distress during travel to the vet clinic or the groomer, certain treatments can be tried before the big trip.

Keeping cool

Unrestricted access to water should be available for all pets, especially during hot weather.
If your pet is outdoors for extended period of time, ensure both shaded areas as well as water are available outside.
For extremely hot weather, please bring your pets inside.
Most of the potential risks to pets during the summer can be avoided if we plan ahead.  One of my first cases, as a veterinarian, was a heat stroke emergency and it was so obvious then that prevention would have been simpler and more effective than treating the exposure after it happened.  Don't hesitate to contact our clinic if you have any questions about pet care in the summer and stay tuned to our blog for more helpful tips on keeping your furry loved ones healthy!
No comments yet.
Leave a comment!