Community Animal Hospital Blog
Feline Spring Safety Tips
It's 72º outside today and finally feels like Spring!  I can't wait to enjoy some nice Spring weather, the same I'm sure goes for many of my feline patients!  Some cats are strictly indoors, which is certainly a safer life style, while some cats enjoy the excitement of the indoor/outdoor life.  Each lifestyle exposes your cat to certain health risks every spring.  Let's go over some seasonal safety tips for our feline friends!
No Parasites Please
I recommend using heatworm and flea prevention with cats year round but its especially important during warm weather.  Unlike heartworm disease in dogs, feline heartworm disease can be challenging to diagnose and there is no specific treatment!  Since heartworm larvae are spread by mosquito bites, even indoor cats can be exposed to the disease.  More common than feline heartworm disease, I see flea infestations on cats routinely, especially now that its getting warm out.  Is your cat safe from fleas if they never go outside?  Not necessarily!  We can easily track flea eggs and larvae from outside into our homes, exposing our cats to this blood thirsty parasite (learn more about fleas here).  Feel free to ask the Community Animal Hospital staff and doctors what flea and heartworm prevention is best for your pet!
Toxic Plants
Some cats naturally enjoy chewing on some plant/grass material.  So much so that companies even make kitty-friendly grass you can grow in your home.   Most cats cannot tell safe plants from poisonous plants and its our job to make sure they do not have access to poisonous plants!  The big culprit this time of year are lilies. Whether its plants/flowers in the garden or in home, you should make sure your cat does not have access to the following:  lilies, aloe, chives, garlic, hydrangeas and many others.  Check out the ASPCA's full list (here) and please read the infographic on lily toxicity in cats below before bringing one into your home this holiday season: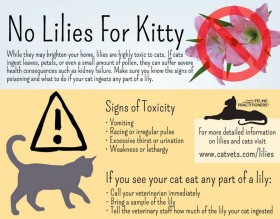 Outdoor Time
One of the most common reasons I see cats with injuries is when they scrap with other outdoor cats.  But other outdoor cats aren't their only enemies.  Dogs, foxes, and for very small cats, eagles, can all be potential predators!  Ideally, outdoor play time should be supervised, but this is not always possible.  Outdoor cats require additional preventative medicine measures compared to strictly indoor cats.  If your cat goes outside, even just occasionally, he or she should be tested regularly for Feline Leukemia Virus and Feline Immunodeficiency Virus, receive an annual Feline Leukemia Virus vaccine and have a microchip.  To prevent getting stuck on a fence or post, which can lead to life-threatening injuries, special "break-away" collars should be worn by cats that spend time outdoors.
Spring time may also mean beginning of allergy season for some cats as well as some of us humans (me included!).  Check out our blog next month when we discuss the very common, allergic skin disease of dogs and cats!
No comments yet.
Leave a comment!