Our Easton Veterinary Hospital
The Best Veterinary Care on the Eastern Shore Since 1984
Community Animal Hospital in Easton, MD has been serving the mid-shore's people and their animal friends since 1984. Our modern 6,000-square-foot hospital is the largest in the area that is dedicated exclusively to the care of small animals.
Growing with Our Community
In 1984 Drs. Joe and Donna Nizolek converted a brick ranch-style house into the original hospital, and for many years provided veterinary care to all creatures great and small. Remodeled and expanded in 2000, our Easton veterinary hospital has evolved into a multi-doctor practice that provides the best in small animal medicine and surgery, as well as care for exotic pets.
Personal Pet Services for Your Special Companion
Our Easton veterinary practice is built on a commitment to excellent health care, compassion for our patients, and close client communication. The doctors and staff of Community Animal Hospital believe in a personal approach to the care of your pets, and that means we tailor health programs to the needs and lifestyle of each animal. If your cat or dog becomes ill, we discuss all treatment options and work with you to develop a plan.
Please take a moment to learn more about our animal hospital in Easton – or better yet, stop in and meet us. We welcome the opportunity to introduce you to our doctors and show you around our hospital.
Easton Veterinary Location & Hours
Location
9679 Ocean Gateway
Easton, MD 21601
(410) 822-4475
Click for Map

Hours
Monday - Thursday: 7:30am - 6:00pm
Friday: 7:30am – 5:00pm
Saturday: 7:30am - 1:00pm
Sunday: Closed
Payment Policy
Payment in full is due upon completion of services. We accept cash, personal checks, Visa, Master Card, and Discover. A deposit of one half of the expected bill is required for all hospitalized animals. The full balance must be paid when your pet is discharged from the hospital.
Supporting the Community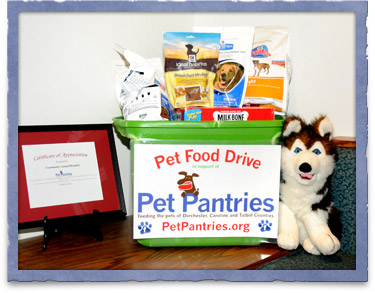 Community Animal Hospital is proud to support organizations that promote animal welfare and build the human-animal bond. Through the following organizations, we help promote:
Animals helping people
Talbot Special Riders
Pets on Wheels
Guiding Eyes for the Blind
America's Vet Dogs, benefiting the Veterans' K-9 Corps
People helping animals
We are sponsors of the Talbot Humane Society and their annual "Bark in the Park," and we assist with the society's adoption spay and neuter program.
Our veterinary hospital works with Pet Pantries, an organization dedicated to making sure any local pet owner in financial need has access to free pet food.
Dr. Teri White is one of the founders of TomCat Solutions, a group which works to decrease the number of free-roaming cats on the eastern shore. Community Animal Hospital provides low-cost medicine and services to this organization.
We sponsor contestants in "Dancing for the Dogs," which benefits several area humane societies and rescue organizations.
Chesapeake Cats and Dogs: we offer reduced veterinary care fees to help homeless animals and facilitate their adoptions.
GRREAT (Golden Retriever Rescue, Education and Training)
Chesapeake Bay Retriever Relief and Rescue
People learning to help animals
We work with Chesapeake College to provide hands-on learning experience for students in animal-related courses of study.
Our veterinarians and nurses spend time visiting local schools to discuss pet care and offer career advice and mentoring.
Review Us
Are you a satisfied client? Let us know about your experience, and review us on Google!