Your Pet's Surgery
Expertise and Compassion When Your Pet Needs it Most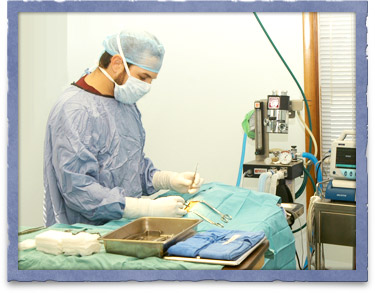 When your pet needs surgery, you can have confidence your veterinarian at Community Animal Hospital will work hard to ensure the procedure is completed according to the highest surgical standards and is as comfortable and stress-free as possible for you and your pet.
Our animal hospital in Easton offers a wide range of surgical services, including but not limited to:
Spays and neuters
Eye surgery
Bladder surgery
Tumor removal
Gastrointestinal surgery

Orthopedic surgery
Cancer surgery
Skin surgery
Biopsies
Cesarean sections
We have an all-encompassing view of your pet's surgery, and we carefully evaluate patients before the procedure with a physical exam and pre-anesthetic blood work. We prepare patients for the procedure, monitor them carefully throughout the surgery, and manage post-operative pain using a variety of medications. We strive for total safety during anesthesia, effective surgical intervention, and a comfortable, painless hospital stay.
We always have our patients' best interests at heart, and if there is a procedure that is beyond our knowledge or technical expertise, we refer clients to board-certified surgeons at referral hospitals such as the Chesapeake Veterinary Referral Center.
Anesthesia and Pain Management
Prior to surgery, we carefully evaluate your pet to identify any medical conditions that might endanger his or her health and also perform pre-anesthetic blood testing. These important steps not only give us a more complete picture of your pet's health, but also allow us to create an anesthetic protocol tailored for your pet.
The expertise of our surgical staff in creating individual anesthetic plans for each patient is an integral part of each surgical procedure. Depending on species, size, age, and procedure, each pet requires a varying amount of anesthesia to comfortably undergo his or her designated surgery. We take great care in making sure all the patients in our care receive close monitoring using state-of-the-art equipment.
Pain management is a part of our pre-operative, intra-operative, and post-operative anesthetic and medical protocol. All surgical patients, including those undergoing routine procedures, receive pain control medication.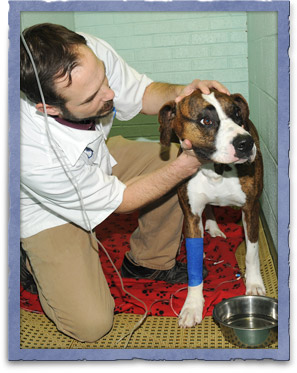 Since your pet is unable to voice his or her discomfort, our highly trained veterinary staff members watch carefully for signs of pain in each patient. Our goal is to make each procedure as painless as possible. With more difficult and complex surgeries, proper pain management is imperative in helping your pet recover comfortably and quickly. With your pet's health and well-being in mind, pain management is a top priority in every surgical procedure we perform.
Your Pet's Postoperative Care
Following surgery, your pet is closely monitored and cared for by our attentive medical staff for a safe recovery. As your pet is discharged from the hospital, you will be provided with detailed information on how to administer any medication and properly care for your pet after surgery. We are also available to answer any questions or concerns that may arise after you and your pet return home.