Staff of Community Animal Hospital
Veterinary Nurses
Manager and veterinary nurse Jennifer Phillips is responsible for hiring and training technical staff, scheduling, as well as overseeing the maintenance of hospital supplies and equipment. Originally from Federalsburg, Jennifer has worked in the animal care field since 1993. She attended Harcum College and joined our staff in 1998. Jennifer worked closely with the doctors throughout the hospital expansion project and has done a great deal over the years to help the hospital grow.
"Having worked here for as long as I have, I've gotten to know many of our clients on a personal level, and I get to experience something new every day." At home, Jennifer spends time with her husband and her daughter, cat Emma. Her interests include cooking, outdoor activities, volunteering at her daughter's school, and being involved at her church.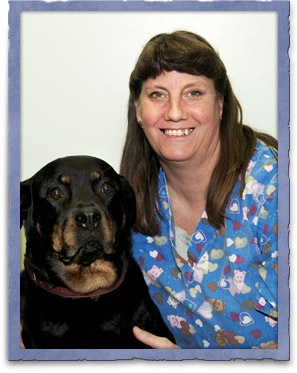 A veterinary nurse at Community Animal Hospital since 2002, Linda Pennell hails from New Jersey and has worked in the animal care field since 1992. Linda is a certified veterinary technician. She attended Camden County College and received her Associate's Degree in Animal Science in 1986. Linda is a graduate of the New York State K9 Academy, specializing in Schutzhund training of police and service dogs. She willingly shares her knowledge of training and animal behavior with clients. "The veterinarians, the nurses and the reception staff are a great team. Our clients and their pets are treated with the utmost care and compassion. Every day is a wonderful experience."
Linda is a member of the Rottweiler Club of America and has shown and bred Rottweilers, Bernese Mountain Dogs and Collies. She shares her home with KittyCat, and Rottweiler Max.
Outside of work, Linda enjoys gardening, swimming and bird watching, especially for Bald Eagles and Hummingbirds.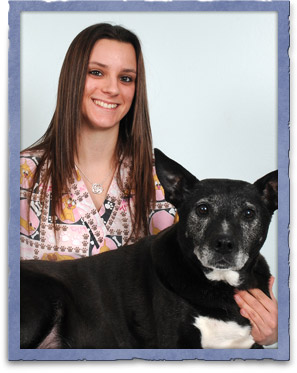 Jessica Poet joined the Community Animal Hospital as a veterinary nurse in September 2009. Jessica grew up in Queen Anne's County. She has been involved with animal care for many years, and began working with horses at the age of 10. Jessica graduated from Chesapeake College with a Veterinary Assistant Certificate. She says "I love the veterinary field because helping animals is an amazing experience, and I love to educate people. I am proud of the quality of care we provide."
Jessica has a great love for animals and shares her home with her horses and cats. She enjoys fishing, horseback riding, restoring her truck and activities with her family and friends.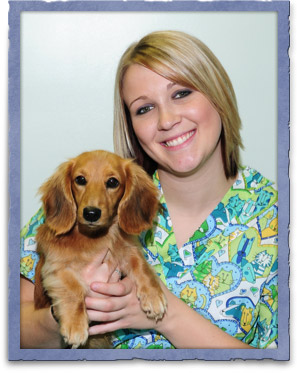 Caitlyn Vanderbyl joined Community Animal Hospital in November 2010, and is a graduate of Chesapeake College, with a Veterinary Assistant Certificate and an Associate's Degree in Liberal Arts and Sciences. From a young age, she had a desire to work with animals.
Caitlyn loves the doctors and staff at the hospital and finds her career in the animal care field very rewarding. "I get to learn new things every day," she says. "I work with great people, and our wonderful clientele and their pets make this a job that's easy to love."
Caitlyn shares her home with dog Roxy and Nani the cat. In her spare time she enjoys boating, music, and spending time with her husband John and their friends.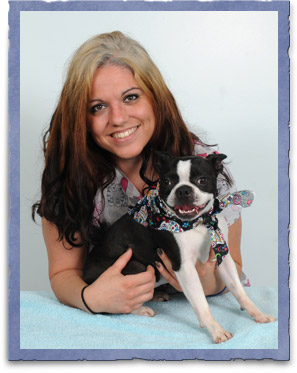 Candi Callahan joined Community Animal Hospital as a veterinary nurse in February 2016. She grew up on a dairy farm in Cordova and comes to us with many years of experience in small animal medicine. Candi graduated from Chesapeake College with a degree in liberal arts and sciences, and may pursue a nursing degree in the future.
She says, "I love veterinary medicine because I get to care and advocate for those who cannot speak for themselves."
Candi likes boating and other sports, and she enjoys spending time with her friends—including her dogs and reptiles.
Reception and Client Services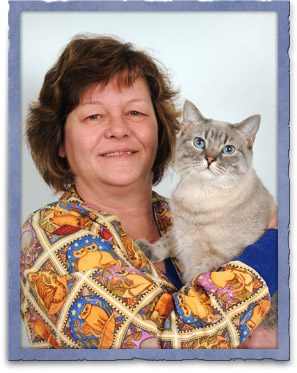 Marie Burneston manages the front office and is in charge of information technology. As head of Human Resources, she hires and trains receptionists and is responsible for scheduling and the oversight of the front office. Marie is also in charge of billing, advertising and client relations. She is an integral part of the hospital's management team and works closely with the professional staff to develop and implement hospital policies.
Born and raised in Washington, D.C., Marie settled on the Eastern Shore and joined Community Animal Hospital in 1995. "I've been with Community Animal Hospital for 20 years, and I'm still impressed with the skill of our doctors and compassion of my co-workers. I feel our clients and patients are more like family and friends." Marie shares her home with cats Purrl, Bernie, and Pia, and a pair of lovebirds. Her hobbies include beachcombing, bird watching, hiking, and camping with her husband.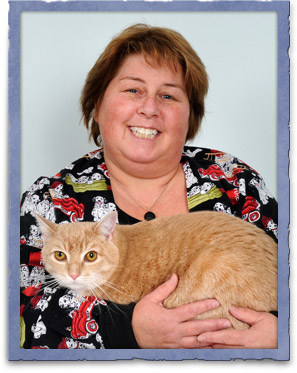 Kelly Harris joined Community Animal Hospital as a receptionist in 2004. A native of Cordova, Kelly has worked in the animal care field for more than 25 years. Kelly loves working with animals and their owners, and is proud of the compassionate care offered at the hospital. "My favorite part of my job is giving the dogs treats. They know me, and I like their visits to us to end on a happy note so they can't wait to come see us again." At home Kelly enjoys the company of her cat, Fat Butt. When she's not at work, Kelly can be found at the beach, enjoying nature trails, and spending time with her family.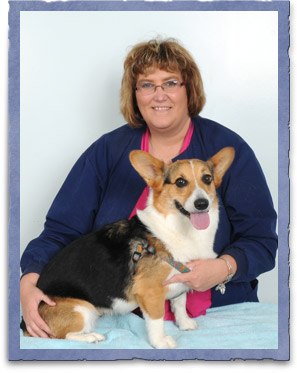 Mandi Willoughby has been with Community Animal Hospital since 2015. She completed the Veterinary Assistant Program at Chesapeake College and received her certificate in 2012. Mandi has worked in the veterinary field for three years. She has always had the desire to work with animals, saying "helping clients and the pets they love is the best feeling in the whole world."
A native of Dorchester County, Mandi shares her home with dogs Bailey and Maddie, and her cat Elvis. She enjoys spending time with her friends and family, singing and being at the beach.