Health Care Services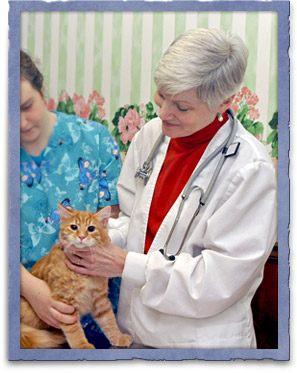 While regular preventive care is the foundation for keeping your pet healthy, the veterinarians and medical team at Community Animal Hospital are also experienced providers of a full range of healthcare services, including the diagnosis and treatment of all forms of internal disease, skin problems, and orthopedic issues. When cancer is diagnosed, our doctors help pet owners to chart an optimal course. We offer advice on nutrition both to maintain health and to treat a variety of conditions. At all times, we strive to provide the best care and cost-effective solutions.
Internal Medicine
While our focus is on wellness care and disease prevention, an important part of our practice is also the diagnosis and non-surgical treatment of diseases that can affect your pet's internal organs and body systems.
Our veterinarians, supported by our skilled medical team and advanced diagnostic technology, have expertise in many areas of internal medicine and all our doctors work together to discuss each case, giving you and your pet the benefit of our collective knowledge. We also consult with internists at universities and the Chesapeake Veterinary Referral Center when it is in the best interest of your pet.
Allergies and Skin Problems in Dogs and Cats
Unlike human allergy sufferers, when dogs and cats are exposed to allergens, they develop skin problems and experience intense itchiness, as opposed to the respiratory symptoms that people get. Some dogs have spring and fall allergies brought about by pollens, just like their owners. Other pets have year-round allergies caused by food or allergens in the environment like dust mites. The doctors at Community Animal Hospital are familiar with the diagnosis and treatment of allergies and can bring relief to your pet with a wide variety of medicines and topical treatments. For patients with severe allergies, we recommend allergy testing, and we consult with Dr. Patrick Breen, a board-certified dermatologist, to develop a hyposensitization plan for your dog or cat.
There are many symptoms of skin problems, including:
Red, raised, scaly areas on the skin
Bumps, crusts or pus filled vesicles on the skin
Increased skin pigmentation
Thickened skin
Loss of hair
Salivary staining
Head shaking
Because so many skin problems look the same, it is very important to have your pet examined by an experienced veterinarian. Community Animal Hospital offers a full range of diagnostics for dermatological conditions including skin scrapes, trichograms, in-house bacterial and fungal cultures, and allergy testing. For serious conditions, we send biopsies to a dermatopathologist.
Skin conditions can make your pet very uncomfortable, and if left untreated, can become serious medical concerns.
Orthopedic Health
For dogs and cats, having healthy bones, joints, and muscles is key to their living a happy life. Many factors impact orthopedic health - genetics, nutrition, and exercise. Why not let our veterinarians help you from the start? Before you purchase a puppy, let's talk about the breed, what to look for, and questions to ask such as whether the parents have been evaluated for dysplasia and certified by the Orthopedic Foundation for Animals (OFA). If you adopt a pet, a physical exam can identify any existing orthopedic issues, and a plan can be developed to manage them.
Musculoskeletal problems are not limited to senior pets. Young dogs have numerous conditions that manifest themselves as they are growing, such as hip and elbow dysplasia, osteochondritis dessicans (OCD), and panosteitis. If an orthopedic problem is diagnosed, our health care team will work with you to optimize nutrition and exercise. Doctors can recommend foods and supplements that enhance joint function and, when needed, prescribe medications that alleviate arthritis pain. We can do a lot to help your dog or cat remain mobile and comfortable!
Treating Cancer in Pets
At Community Animal Hospital the standard treatment for almost all pet cancers is surgical removal of the mass. Surgery is also the best treatment for accessible benign cancers and the majority of malignant cancers that have not yet spread. Your pet's recovery from surgery is usually rapid and post-surgical pain can be controlled using appropriate medications.
Should it be in the best interest of your pet following surgery, we may suggest further treatment such as chemotherapy and radiation.
Before making the decision on the appropriate course of action for your pet, please discuss all the relevant factors with your veterinarian so we can help you make an informed choice. Our understanding of cancer is increasing all the time, leading to better treatment approaches, optimal quality of life and an improved outcome for your pet.
Your Pet's Nutrition
Proper nutrition and a balanced diet, along with fresh, clean water, are essential ingredients for your pet's overall good health. As your pet's caregiver, nutrition is the most significant health variable that you control. Making the best nutritional choices for your dog or cat not only effects general health, but will improve the quality and length of your pet's life.
To support your efforts, your veterinarian will perform a thorough body condition evaluation during every physical examination and offer weight loss counseling if needed. Nutritional counseling at our animal hospital in Easton also involves the recommendation of "nutraceuticals" such as glucosamine and chondroitin sulfate for arthritis, omega-3 fatty acids for healthy skin, heart and kidneys, as well as vitamin supplements for certain conditions.
Your veterinarian will also provide important information on proper serving size and feeding strategies for your pet and help you navigate pet food claims so you can make the most informed choices.
Prescription Diets
Some pets have serious nutritional challenges or chronic conditions that benefit from a special prescription diet. Making this change can have a significant positive impact on your pet's overall health and well-being.
Prescription diets benefit medical conditions such as liver disease, bladder and kidney disease, digestive problems, renal failure, food allergies, diabetes and more. Community Animal Hospital carries Hill's Prescription Diets, Royal Canin and Purina, and your veterinarian is happy to recommend one that will best meet your pet's needs.
Behavior Counseling
As doctors, we recognize behavioral issues can threaten the human-animal bond as much as any medical condition, and we are committed to working with you and your pet to find a solution. Please don't make the mistake of believing you and your family must live with these problems or worse, consider giving up your pet.
An important part of our first visits with your puppy or kitten is to advise you about the care and training of your new family member. We devote considerable time to fostering good behavior because so many problems later in life can be avoided by getting off to the right start.
Even with the right training and lots of attention and love, your dog or cat may develop bad habits or unwanted behaviors. Many problems are easily solved, and our experienced doctors can often provide helpful solutions during regular appointments. One of our veterinary technicians has great expertise in this area and can work directly with our clients. For issues that require specialized long-term help, we can refer you to professionals in the area. We can also prescribe medications to help manage certain behaviors.
Our goal is to help find solutions that restore harmony. Together, we can help your pet become a happy, well-adjusted part of your household.
Reproductive Medicine
Whether you are an experienced breeder or you're breeding your pet for the first time, the veterinarians at Community Animal Hospital can help. We offer the following services:
Evaluation of bitches for optimal breeding time
Artificial insemination using fresh semen
Diagnosis of pregnancy
Advice and assistance during delivery
C-sections when needed
To learn more about all the ways the medical team at our animal hospital in Easton can help guide you through this exciting process, please give us a call today.